It's a well-known fact that Delta 9 THC is federally illegal. Should a product contain this cannabinoid, it can make up no more than 0.3% of the total compounds in said product. A few companies are starting to offer "legal delta 9 THC gummies" which are edibles containing slightly less D9 THC than that legal cutoff. Some gummies, like the ones I tried, contain only Delta 9 while others contain a combination of both Delta 8 and Delta 9.
So are these gummies legit? Well, it depends on if you're buying pure Delta 9 or combo gummies. The former containing only delta 9 are akin to what you would find in a dispensary. For example, I tried the Urb Effex Delta 9 Vegan Gummies which contain 15mg of hemp-derived Delta 9 THC per piece. On the other hand, we have the Delta 8/Delta 9 combo gummies which sound cool initially, but when we stop and think about the way all tetrahydrocannabinols are digested in the human body, we come to realize that it really doesn't matter whether it contains that small amount of Delta 9 THC or not. Sure it's fun, but when it comes to effects, it's unlikely you'll feel any higher from these D8/D9 combo candies than you would from straight Delta 8 or Delta 9 THC edibles.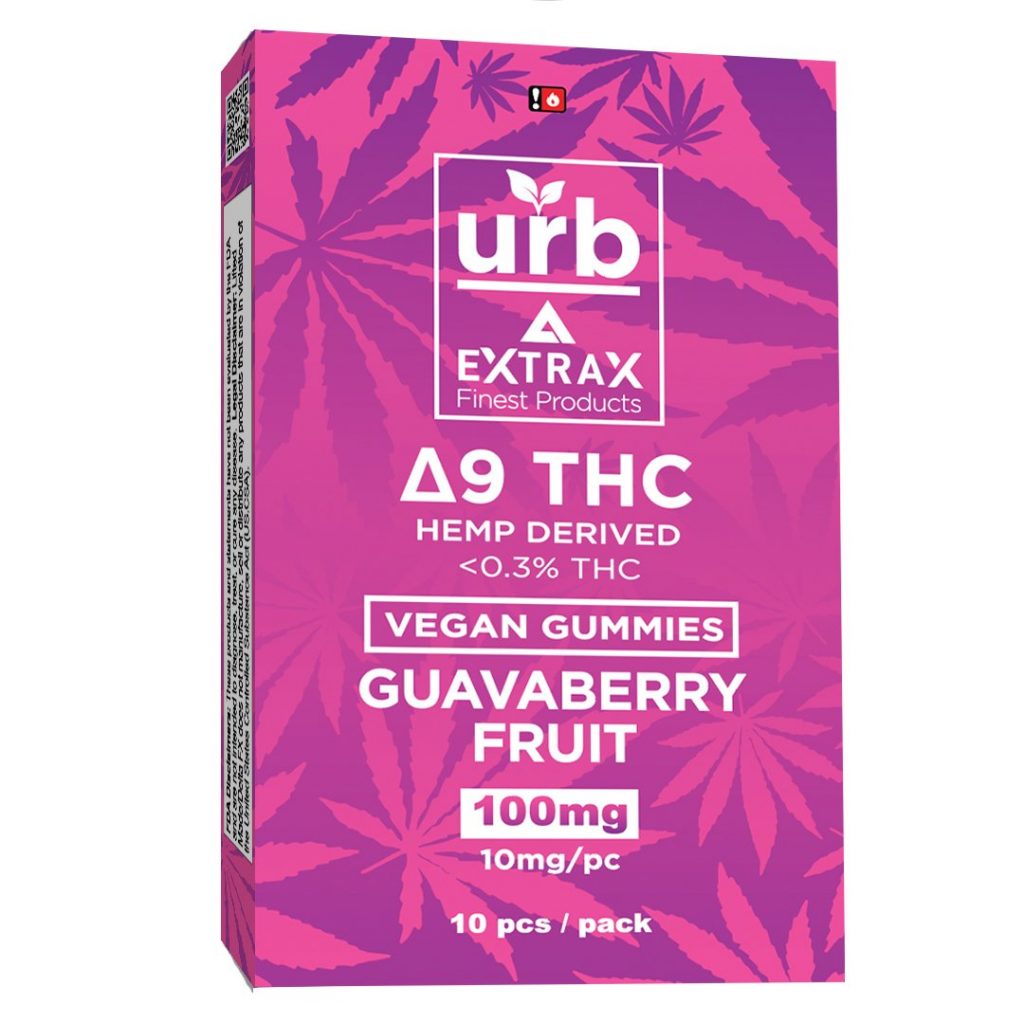 With 10 mg of hemp-derived Delta-9 THC, these vegan D9 gummies are a great choice for anyone looking to buy Delta 9 THC products online. Each pack contains 10 of these small babies, total 100mg THC.
Stocking-up opportunity: Get an additional 25% discount when choosing 10 items or more with the Gummy25 coupon code. This great offer will allow you to get Delta-9 THC gummies for as-low-as $1/gummy! A great price for Delta-9 THC gummies, finally available online.
Cristmas deal – 25% discount with the Gummy25 coupon code when choosing 10 items or more. This deal will run until Dec 31st.
Choose between: Guavaberry Fruit, Blueberry Citrus and Kiwi Mixer.
(With Gummy25 coupon code)
---
Now back to those Delta 9 THC gummies (which, if you would like to try them for yourself, just subscribe to our newsletter below for a special discount). Again, these gummies contain Delta 9 THC extracted from legally grown hemp, not marijuana. But either way, they're worth a try as this is currently the only legal way to buy Delta 9 THC online.
Edibles are fun, and they hit in a different way than smokables. It's wonderful that we now can buy Delta 9 THC edibles online, same varieties and quality of what you would at a local dispensary in a legal state. To try them out for yourself, make sure to subscribe to The Delta 8 Weekly Newsletter to learn more and for exclusive deals on Delta 8, Delta 10 THC, THC-O, THCV, THCP & HHC.
---
Delta 8 and Delta 9 THC
When people think of "THC", they're thinking of Delta 9 Tetrahydrocannabinol, which is the main psychoactive compound found in cannabis plants. For decades, THC has been both illegal and highly controversial because lawmakers were too heavily focused on its psychoactive properties, rather than acknowledging all of its many possible uses in the health and wellness sectors.
One of the most common, non-recreational uses for THC is to manage pain, including that stemming from inflammation, headaches, injury, chemotherapy, menstrual cramps, or neuropathic pain. Anecdotal evidence, as well as some newer clinical studies, indicate that THC is also one of the best natural remedies for treating digestive issues such as nausea and wasting syndrome.
NEW: THC-O GUMMIES
Another promising medicinal use for THC is brain cell regeneration, which is particularly interesting since one of the main talking points on keeping cannabis illegal is how bad it is for the brain; but that is definitely not accurate. This is especially true for elderly patients who use THC products. Studies show that it helps with more than just brain function and memory improvement, but THC actually helps change the structure of the brain cells to take on traits of cognitive youth. Other therapeutic uses for THC include: sleep aid, antioxidant, antimicrobial, epilepsy relief, glaucoma, and muscle relaxer.
By comparison, Delta 8 is a bit more mellow than Delta 9 as far as the high goes, but the medical benefits are very similar. From a chemical standpoint, the only difference between the two is that Delta 8 has its double bond on the 8th carbon chain, whereas Delta 9 has it on the 9th chain.
A Bit About Edibles
We've all noticed that edibles hit way different than smokables. That is because of a little endocannabinoid known as 11-hydroxy-THC. Sometimes written 11-OH-THC, this compound is naturally occurring and made in the human body. After delta-8 or delta-9 THC has been swallowed, the body breaks it down and metabolizes it via the liver. 11-hydroxy-THC is a metabolite of the other tetrahydrocannabinols and is said to be much more potent than its precursors. This is why delta-8 THC edibles are just as strong as delta-9 edibles, but the same can't be said for smoking and vape products.
In some ways, edibles feel like they get you more than flowers and even concentrates sometimes. Although it takes a while to get rolling, once they kick in, I'm laid out on the couch almost every time. I feel extra stoned, I'm laughing at everything, and eventually, I get super tired. This seems to be commonplace when it comes to edibles; but why exactly do they differ so much from smoking… you know, from a scientific standpoint?
NEW: Hemp-Derived 10mg Delta-9 THC Gummies!
Delta 9 THC Gummies
Christmas Deal:
Use coupon Gummy25 and get a 25% discount when buying 10 items or more!
Click HERE the get Delta-9 THC gummies
It all boils down to two physiological factors: the drug-metabolizing enzymes in your GI tract, and blood flow to the liver. When you first eat a cannabis edible, various enzymes in the GI tract begin digesting the food. From that point, blood flow from the GI tract goes through the liver where all these enzymes are metabolized, then the blood continues into general circulation. When the metabolites are formed, that's when you get the effects of 11-hydroxy-THC.
However, when you smoke or vape, the THC is absorbed through the lungs and distributed directly into the bloodstream. The active compounds make their way to the brain where they activate the CB receptors that are part of the endocannabinoid system. When smoking, you are feeling the effects of the phytocannabinoids (plant-cannabinoids), rather than the compound formed during eating and metabolism, which is an endocannabinoid.
An Interesting Legal Loophole
Although most delta 9 THC products are federally prohibited, there are a couple reasons these ones are legal. First of all, the THC is extracted from hemp, not marijuana that's already high in THC. Is strange, but thanks to 2018 farm bill, this falls under a legal loophole in which any naturally-derived compound can be extracted and utilized, as long as it comes from hemp that it legally compliant (meaning it's grown by a licensed cultivator and extracted from plants that contain less than 0.3 percent THC by dry weight).
Now, when it comes to the final product, the same rule applies. The final product needs to have less than 0.3 percent delta 9 THC by dry weight. So looking at the Urb Effex gummies from our newsletter, they contain 15mg of D9 THC and the total weight of each gummy is a little over 50 mg, making the THC content less than the legal limit of 0.3 percent.
Again, I tried the Urb Effex Vegan, Hemp-Derived Delta 9 THC Gummies in Blueberry Citrus Burst. First of all, I want to mention that the consistency of these gummies feels more like a Jell-O shot rather than an actual gummy, but the flavor was wonderful none the less. As far as effects, they hit me like all Delta 9 THC edibles, I got really stoned then after a while, really tired and slept like a baby. So overall, they're on par with what what comes to mind when most people think of weed gummies.
Now, I'll take another example from the brand ATLRx, simply because they're the first one to pop up when you do a google search of "legal delta 9 THC gummies". According to the product details on their site, each gummy contains 22mg of Delta 8 THC and 3mg of Delta 9 THC, keeping the total amount of D9 under that 0.3% legal limit.
At first, it's logical to assume that you'll get higher with these gummies than other ones because when you smoke delta 9, it's much more intoxicating than delta 8. However, because of how all tetrahydrocannabinols convert to 11-hydroxy-THC when metabolized, there won't be a noticeable difference whether the gummies have 22mg of Delta 8 THC and 3mg of Delta 9 THC, or just 25mg of Delta 8 THC alone. Once they go through the digestive process, they all become the same compound, and thus, the effects will be the same.
Having said that, the above dosage of any type of THC in a single gummy is quite potent, and one or two pieces should be more than enough for a novice user. For reference, when giving edibles to any of my elderly relatives, I usually give them about 30 milligrams, and each one of ATLRx's gummies contains 25mg of total THC.
Christmas Deal: 40% Discount On The Delta-9 THC Bundle
The new 'Legal Limits D9 + CBD Saver Bundle' offers us a great way to experience the combined benefits of Delta-9 THC and CBD, heavily discounted for the holiday. All products in this bundle are hemp-derived, which means you can freely buy it online.
The bundle iscludes the following items: 10ml Tropical Mix Delta 9 gummies (30 count, total of 300mg THC), Vegan Delta 9 shot with 40mg of Delta-9 THC and Berry Sweet CBD gummies (10mg each, 200mg total).
Want to save more? For an additional 15% discount, use our 'THC WEEKLY' coupon code, taking the price to under $32 for all three products! This is a fantastic price for these best-selling products, sold separately for double that price.
TIP: Don't forget to use the THCWEEKLY coupon code for the additional 15% discount.
(With THCWEEKLY coupon code)
Legal Delta 9 THC gummies – Final Thoughts
I can go on about the effects, flavors, and product details, but at the end of the day, you won't know whether you like them or not until you try them for yourself. If you're going with Urb Effex, you'll get delicious gummies with natural, hemp-derived Delta 9 THC – again, very similar to what you find at a dispensary. I personally have not tried any other brand of online "legal" delta 9 edibles, so I can't comment on flavors and effects of those products. Remember to subscribe to our newsletter to give these gummies a try!
Thank you for stopping by CBD TESTERS, your hub for all things cannabis-related. Remember to subscribe to The Delta 8 Weekly Newsletter for more articles like this one and exclusive deals on all the latest products!
Affiliate disclaimer: We work hard to find and verify the best products, so we may include affiliate links to support the maintenance and development of this site.
Want hemp flowers? Look at the best smokable hemp flowers