If you are looking for some of UK's best CBD Oil and CBD eliquid products, you should try the improved Provacan CBD Oil and Provacan CBD eliquid (UK / EU). These products have been shown to be of a high quality and effective at treating various conditions.
CIITECH, the approved suppliers of these products are a UK-based CBD company, with deep roots in the Israeli cannabis industry. The company is currently involved in a clinical trial looking at CBD as a remedy for Asthma. They work closely with Hebrew University Professors, all experts at the top of their fields in cannabis research and development. Learn more about Provacan CBD Oil.
I
PROVACAN is designed and developed in Israel and crafted in the UK.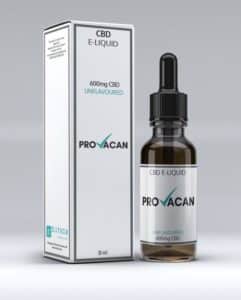 The CBD classic brand 'PROVACAN' has been crafted to serve the need of customers seeking reliable products from companies with strong ethics and a firm focus on continued scientific discovery.
Their partnerships in Israel with leading research institutions and leading industry pioneers ensure their continued access to cutting edge cannabis knowledge.
The Provacan range consists of; CBD e-Liquids, CBD Oil (Mouth Spray) CBD Topical Balm and CBD Massage Oil.
The 'CBD Testers Verified' products are premium ones, only available to our registered users.
Provacan CBD Oil 600mg – EU / UK
If you need a high-quality CBD oil, you should try the Provacan 600mg CBD. Based on a unique Israeli defined blend of cannabis terpenes and made in collaboration with leading Israeli researchers and institutions, this high-quality product, will take care of your daily CBD needs.
The NEW Edition CBD 6% Full Spectrum CBD oil has added 4 cannabinoids to the mix. CBG, CBDv, CBC and THCVa.
Additional discount with CBDTESTERS coupon code
Buy Provacan CBD Oil 600mg
Provacan CBD eliquid (EU / UK)
Provacan CBD eliquid offers you a full spectrum CBD product for your daily use. Since inhalation is the fastest delivery mechanism to administer CBD, you will that CBD Eliquid bring you almost instant relief.
The 'CBD Testers Verified' products are premium ones, only available to our registered users.