Cannabis – both medical and recreational – are certainly on the rise. We know the kids are doing it, and we know adults are too. But what about our grandparents? These days, cannabis and seniors go together like… seniors and bingo!
Everyone uses cannabis these days, from seniors to athletes to medical patients and so on. And there are so many different kinds, that users can always find the products they need. It's good to have options! For example, THC makes a lot of people couch-locked and anxious. This doesn't happen with alternate form delta-8 THC. This form leaves users clear-headed and energetic, and without paranoia, making it ideal for those who struggle with standard THC. We have a plethora of awesome Delta-8 THC deals. Take a look, and pick the option right for you.
A little about the senior population of America
We don't usually think of the geriatrics of America as being cool, or a part of pop culture. Though we conceptually understand that these older wrinkled people used to be young and beautiful – just like us – it's hard to imagine a guy now taking baby steps with a walker, as the hard-bodied kid doing the jitterbug in the 50's and 60's. These days, once a person gets old and gray, it's like they're invalidated from present culture, often stuck in a home with other old folks to talk about their glory days. In some ways, we forget that they're thinking, vibrant people. Until we become them.
In the 2010 US census bureau report, there were just over 40 million Americans living over the age of 65, approximately 13% of the population. This was up from 1985, when those over 65 took up 11% of the population. By July 1st, 2019, the number of those over 65 reached 54 million. It is expected by the year 2030, that citizens 65 years and older will account for an entire 20% of the population. Another publication puts the number at 95 million seniors by the year 2060, up to 23%. That's now nearly a quarter of the population that is grandparent age.
But wait, living to 65 is hardly a big deal these days. A pretty large percentage of the population gets way past their mid-60s, and this population is growing at a staggering rate as well. In the year 1900, as few as 100,000 people lived to 85 or above. 110 years later, that number was up to 5.5 million in the 2010 census report. It is estimated that by the year 2050, senior citizens 85 and above will account for 5% of the country's total population, 24% of the entire population of senior citizens, and reach approximately 19 million in numbers.
There was a huge uptick in nursing home entries between the years 1992-2009, with admissions increasing by three times. It went from 28 out of 10,000 who receive Medicare, to 80 out of 10,000. As of 2012, 1.3 million seniors were living in nursing homes, which given the trajectory just stated, implies a much bigger number here in 2021. According to Nursing Home Abuse Center, 16.5% of the current 1.4 million in nursing homes are 65-74 years of age. 26.4% are 75-84, 33.8% are 85-94 years of age. And 7.8% are 95 and above. Approximately 15.5% are under the age of 65.
Health issues for older adults
There are plenty of debates about if and why people live longer today. Most research will not actually back up that this is due to the large array of available medications. More research points to simply having a larger percentage of people making it past childhood, with an emphasis that life expectancy hasn't changed quite as much as modern thought tends to imply. But that doesn't mean there isn't a difference, and we know this because our older populations are growing. While medications might not be the complete answer, medical interventions (breathing machines, feeding tubes, arthroscopic surgery etc.) certainly have made a difference, often being used on patients who would prefer not to continue trying to live.
According to the Institute on Aging, when looking at populations above 65 years of age, chronic illnesses, over acute illnesses, prevail. This implies sicknesses that don't go away, and remain as every day issues to deal with. Acute implies a more 'right now' issue, that can be healed in time. All of this does imply a population on medication maintenance. An interesting way of looking at this is through deaths related to heart disease.
From 1981-2009 deaths attributed to heart attacks and strokes went down by more than 50%, however there has been no indication that these health issues have actually decreased themselves, meaning that seniors are now able to continue living – or at least surviving – with the medical issues associated with cardiovascular disease. Considering these issues tend to kill people, the idea of simply 'surviving' with it, doesn't say much good for quality of life.
In terms of diabetes, from 1997-1998, approximately 13% of those 65 and older reported the condition. By 2009-2010, nearly 21% reported the condition. In the 65 and older category, the measured prevalence of diabetes went up by over 50% between 1997-2006. And for weight management, back in 1988-1994, about 22% of those over 65 were considered obese (this does not include those simply deemed 'overweight'). When looking at 2009-2010, that number increased to 38%. Back in 1984, a little over 80% of the population over 65 had 1+ chronic health condition. This was increased to 91% by 2005.
Cannabis and seniors – what's going on
Before getting into the best cannabis products for seniors, let's take a look at who's already using it in our aging community. In 2020, a study came out called Trends in Cannabis Use Among Older Adults in the United States, 2015-2018. In the study, it was reported that cannabis use in adults 65 and above, has gone from .4% back in 2006-2007, to 2.9% in 2015-2016. From 2015-2018 it went from 2.4% to 4.2%. The study comes from data compiled for the 2015-2018 National Survey on Drug Use and Health. This survey only accounts for non-institutionalized people, meaning the almost 1.5 million sitting in nursing homes wouldn't be included.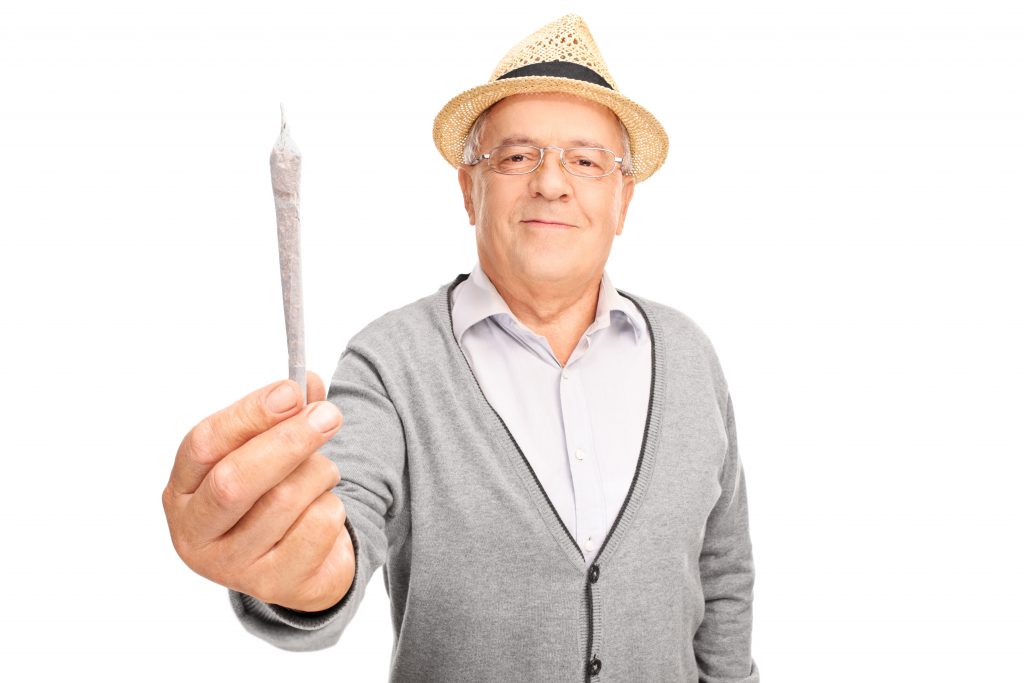 The groups that saw the biggest increase in cannabis use, were those coming from racial or ethnic minorities, women, people receiving help for mental issues, richer adults, and diabetics.
In another study from 2020 called Cannabis: An Emerging Treatment for Common Symptoms in Older Adults, conducted at the University of California San Diego, found that older adults tend to use cannabis more for medical problems. The conditions for which cannabis was more frequently used, were: anxiety and depression (among other psychological conditions), as well as pain management, and for sleep. According to Christopher Kaufmann – co-investigator on the study:
"Pain, insomnia and anxiety were the most common reasons for cannabis use and, for the most part, patients reported that cannabis was helping to address these issues, especially with insomnia and pain."
The survey encompassed 568 respondents, 15% of which claimed to have used cannabis within the last three years. Of those respondents, half reported using it on a regular basis, with medical issues being the primary reason. The study took place over a ten week period, and it was found that a staggering 61% of patients had never used cannabis until after turning 60. This is could be related to the idea that when this population was younger, cannabis was still very much demonized, making the current time period a more realistic one to start using it. According to another co-investigator Kevin Yang:
"These individuals were a unique group compared to those who used cannabis in the past. New users were more likely to use cannabis for medical reasons than for recreation… The route of cannabis use also differed with new users more likely to use it topically as a lotion rather than by smoking or ingesting as edibles. Also, they were more likely to inform their doctor about their cannabis use, which reflects that cannabis use is no longer as stigmatized as it was previously."
Best cannabis products for seniors
While it doesn't come up as a disease that people die from, arthritis sure runs rampant in the older community, with 49.6% of adults 65 and above reporting a diagnosed case of arthritis between the years 2013-2015. This is one of the optimal uses of cannabis for seniors.
With a recommendation from the Rheumatoid Arthritis Support Network, Spruce Natural Labs' Spruce Deep Chill CBD Lotion is a great answer for that ongoing joint pain. This full spectrum CBD cream can be applied directly to joints, and is 100% all natural and pesticide free. The cream contains a mix of CBD, along with other natural ingredients like menthol, camphor, eucalyptus, rosemary and Aloe vera. Each container of this high potency cream contains 3.4oz, has 2,000mg of CBD, and costs $169 ($143.65 with subscription).
Cheaper options do exist. Like Naternal's Rescue CBD Muscle Cream. Combined with menthol, camphor, eucalyptus, and arnica to help promote anti-inflammation, this cream is intended for daily use to restore muscles to a better state. Each container of 3.5oz of cream comes with 1,000mg of CBD, and costs $40.
Another rampant issue among the older community are neurodegenerative diseases like Alzheimer's. According to Alz.org, approximately 6.2 million US residents above the age of 65 have Alzheimer's disease as of 2021, 72% of which are 75+. One in nine seniors over 65 has Alzheimer's, and cannabis has been shown to be useful for aiding with neurodegenerative diseases.
For seniors looking to preserve, or improve, their mental function, Spruce 750mg Lab Grade CBD Oil is a great option. Each dropper of the vegan and gluten free oil contains 25mg of full spectrum CBD, which is artificial flavor, preservative, and sweetener free. This oil uses organic hemp seed oil, is 3rd party tested, and will not produce a psychoactive high, making it a great choice for senior citizens. Each dropper bottle of one fluid ounce costs $89 ($75.65 with subscription).
We also know seniors tend to get stressed out and don't sleep well. Whereas insomnia is seen in 12-20% of younger populations, its seen in 30-48% of elderly populations.
Fairwinds had this in mind when it created its Deep Sleep Tincture, and Deeper Sleep Capsules. The deep sleep tincture was created to sooth both the body and the mind, without producing a groggy feeling the next day. With the inclusion of lavender, chamomile, passion flower and peppermint – among other herbal ingredients, each package contains 250mg of the cannabinoid CBN, along with 250mg of CBD, and 50mg of THC. Each serving contains 10mg, 10mg, and 2mg respectively. This tincture supports rest, as well as neuroprotection, and a balanced nervous system. All great for senior citizens.
The Deeper Sleep Capsules are an even more powerful sleep remedy, containing terpenes like myrcene and linalool – both associated with relaxation. It also contains peony root extract with a standardized percentage of the compound paeoniflorin. Each package contains 75mg of THC and 45mg of CBD, making for doses containing 5mg of THC and 3mg of CBD.
Conclusion
Some seniors want to treat a medical problem. Some just want their golden years to feel more golden – and it seems CBD has been found to do just this. Whatever reasons that have spurred so much growth in the seniors and cannabis scene, the one thing certain is that with a hugely growing part of our population over the age of 65, the seniors of America might soon be the biggest cannabis buying population.
Hello and welcome! You made it to CBDtesters.co, the #1 location for the most relevant cannabis-related news worldwide. Read-thru the site daily to stay on top of the exciting world of legal cannabis, and sign up for our newsletter, so you're always in the know.
Resources
CBD Improves Overall Quality of Life For Seniors, Study Finds
Cannabis And The Elderly: A Neurophysiological And Pharmacological Review The Delta 8 Weekly Newsletter (All you need to know about Delta 8 thc), the Best Delta 8 THC Deals and the Best Delta-10 THC deals Ben Gurion University: CBD & Cannabis 'Highly Effective' For Treating The Elderly
Ask A Doctor – CBD For The Elderly Gallup Poll Finds Americans Use CBD Mostly For Pain Management
Is Cannabis Good for Young Brains?
Disclaimer: Hi, I'm a researcher and writer. I'm not a doctor, lawyer, or businessperson. All information in my articles is sourced and referenced, and all opinions stated are mine. I am not giving anyone advise, and though I am more than happy to discuss topics, should someone have a further question or concern, they should seek guidance from a relevant professional.